Support, bug reports and contact mail adress
I would like to point out that Lokkat comes without any warranty and therefore you are not entitled to receive support. The software was tested thoroughly and will be in the future but software bugs can never be ruled out completely.
Should you encounter a bug when using Lokkat, you can use the built-in option "Menu -> Help -> Report bug" to report it.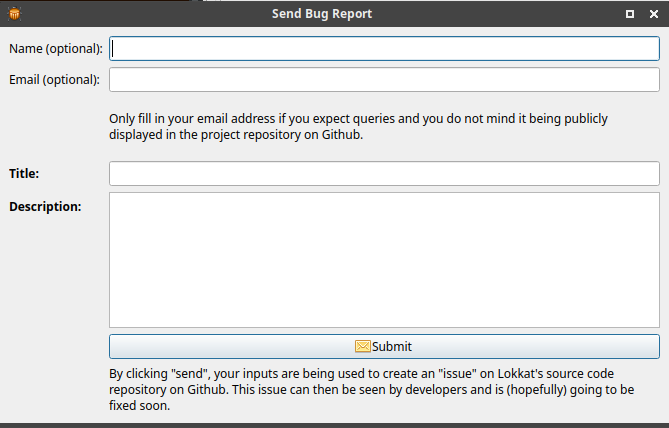 You can find the list of reported bugs and ideas for improvement here.
Ideas for improvement and new features
If you can think of a nice new feature for Lokkat, these are your options to get it into the next version:
You write a mail to me. If I like the feature and can find the time to implement it, I will.

You use the aforementioned feature "Report bug" und mention in the description text that you are suggesting an improvement rather than reporting a bug.

If you have a GitHub account or want to create one you can open up a new feature by yourself.

You can write software in Python: just fork Lokkat on GitHub, implement the new feature and send a pull request so everyone will be able to use it.
Contact mail adress
If you would like to write me about Lokkat you can write an email to lokkat [at] redneptun [dot] net. Succinct titles and a second perusal before hitting the "send" button are much appreciated ;-)